Name:
Kayle Tamara Wynter
Aliases:
Archangel  (IAA codename); Princess (street nick)
Age:
25
Sex:
Female
Race:
Caucasian  (British Descent)
Description:
Height: 5'9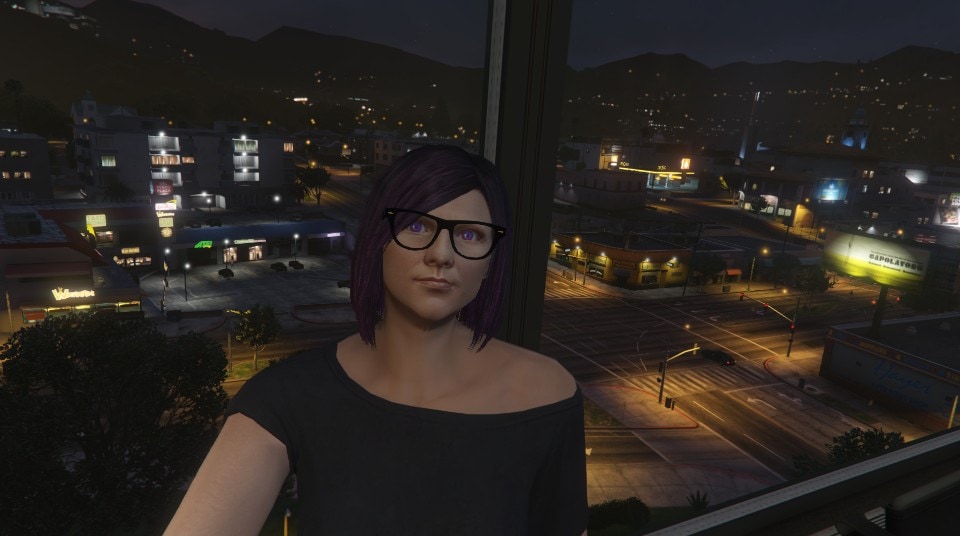 Fashion Sense:
Modest; doesn't own many "hot" outfits, if any - doesn't go clubbing at the moment.
Favourite Weapons:
AP Pistol, Special Carbine, Sniper Rifle
Owned Vehicles:
Shitzu Hakuchou
Vapid Dominator
Merryweather Upgraded Canis Mesa
Wealth:
3 Million
Personality:
Cool, calm, and collected; has a tendency to go overboard when her daughter is in danger or her handler. tends to prefer overkill when allowed, though has a fondness for just sitting on a rooftop and poppin'assholes with her rifle.
History:
Born in London, Kayle and her younger sister Morgan went to expensive schools since they could walk. Showered with gifts but never loved the two fell into different kinds of rebellion - Kayle leaving the house for paintball and martial arts and Morgan becoming an over the top party girl.
Their father did nothing to control Morgan, who descended into sex, drugs, and crime, but Kayle finally did. Breaking into the mansion that Morgan was partying at, Kayle started to drag her sister out...but her crackhead friends tried to stop her.
By the end of it, Kayle put five in the hospital and three had broken limbs. Arrested during her escape with Morgan, Kayle was brought before a judge and given a choice - while her sister was beig treated in rehab for her drug addiction, Kayle would either spend time in jail, real jail, or join the military.
Facing no other options, Kayle picked the military and subsequently applied to the RAF. Having her own grades, extracurricular activities, and prior training in some fields, the RAF accepted her.
At age 17 and three-quarters, Kayle was conscripted into the RAF. Sent to basic and working through it, Kayle spent four years training and learning. Having an interest in flying, she was put on a course to first fly helicopters, then, if she found herself comfortable as a pilot, jets would be considered.
She didn't crash the helicopters, so they decided to put her through some basic flight with propeller trainer until, at age 19 and a half, was given the chance to fly a real jet. She spent two months training in Eurofighter Typhoon, before her mother contacted her.
Some of Morgan's crackhead friends, high on some hard drugs, had broken in for Morgan. In drug-fueled rage they murdered him, and dragged her sister away. Unable to do anything but hide, she implored Kayle to save Morgan.
One problem was, she had no clue where her sister was being held...so, she reached out to family friends, until one managed to help - a New Scotland Yard Inspector, who used his own influence to help find the location of Morgan. While he did his best to get the cogs working, Kayle received a call from her sister - Morgan had managed to break free and begged her sister to save her, as Morgan's old friends were doing their best to dope her up once again. Already assaulted in other ways, Kayle put her career on the line.
Commandeering a Bell 412 from her airbase, she flew to London and executed a risky landing in the backyard of the crackhouse. Entering, Kayle slaughtered the doped-out kids with execution-style headshots, and released Morgan.
She had to run now. With murders and the theft of military hardware under her belt, jail time was inevitable. Leaving Morgan to the oncoming police officers for safety, Kayle took to the skies and made her way as far as possible, until a pair of Tornadoes from another base intercepted her. Forced down, she took off on foot into the wilderness, her head start enough to finally reach a town. Booking passage to America under an assumed name, Kayle arrived in Liberty City with one thought on her mind.
"f*ck me."
Six months from her birthday in December, and with little no money, contacts, or even a change of clothes, Kayle was forced to turn to the darker side of the city as her salvation. Finding work at the Triangle Club, she became embroiled in a prostitution ring run by the Trunchez brothers, until they were all slaughtered. Escaping during the carnage, she was picked up by the Pegorino family and forced to dance in Honkers nightclub. Pulled during FIB undercover checks, Kayle suffered her twentieth birthday with new information - during the mob's gangrapes of her, one had managed to impregnate her. Now bearing child and slowly losing her figure, the mob began to conspire her fate...if not for the death of Jimmy Pegorino.
With the mob falling apart after the death of the head of the family, NOOSE moved in. Cleaning up the stragglers, Kayle was found in a back room, beaten and starved. Taken to a hospital, she was left alone for the first month of her recovery and the second in an apartment provided by the police
That was when an agent of the IAA by the name of Flint Hamilton stopped by, and revealed she had approached yet another choice.
Work for him in sunny Los Santos, or be extradited to England for crimes against the Crown, and all that fun stuff that came with ten accounts of first degree murder and theft of government property. Again, her choice was made for her. She was given time to recover, and be trained and updated on everything she would need...and time to raise her soon to be born daughter. Agent Hamilton, going by the code-name Azazel, gave her more time then most thought would be right - around five years.
Set up with Lamar (and warned that one's desire for sexual favors) she easily got the naive Lamar to set her up in Los Santos. Bundled onto a flight with five-and-a-half year old Kadence, she was split up by the IAA at the terminal. Sent out to meet Lamar, she rebuffed his advanced, resisting the urge to break his neck, and let him drive her around. She then proceeded to kick his bitch ass in a street race, Working with a few of Lamar's contacts, she established a small foothold, even obtaining her personal Dominator. She slept in it for the first few nights, until a sharp knock forced her awake. Outside was...not a hooker, as she dimly hoped. Instead, a sharply-dressed woman with a tight ponytail stood outside her window, suit freshly pressed. Introducing herself as Agent Arcelia (Ar-Cel-E-Uh) Washington, and her codename was Dominion. Getting into the passenger seat and setting the GPS, Kayle found herself pulling into the garage of the Del Perro apartments. Brought into a very high up apartment, Kayle was greeted by a hug from her own daughter.
Arcelia then brought her into a side room, and laid everything out - the IAA had acquired this apartment, another apartment, as well as a garage down by the airport. With a few parting words, Arcelia was ready to leave...but was stopped by little Kadence, who had taken a liking to her.
This was the first sign for Agent Flint Hamilton that something might develop. And something did - a few months in, while young Kadence was asleep on the couch after watching cartoons, and during a very heated argument over Kayle's tactics...it was Arcelia who made the first move, and when Kayle woke up, hours later to Kadence shaking her, asking for dinner. Hastily telling her to go upstairs and wait, Kayle quickly showered away the earlier...exercise, she hurried upstairs and quickly made Kadence some mac n' cheese, before Arcelia walked in.
Wearing her button up shirt and, hopefully, panties, Arcelia took a stool and downed a glass of wine.
"We never speak of this."
"Or we do."
That was the beginning of a beautiful relationship. And at first, it was just sex. Arcelia would look the other way when Kayle used...extreme measures, in exchange for Kayle's undivided attention a few times a week. But in most cases, as it is, something else blossoms. And Kayle found herself more then just a "booty call."
Not that she had any problem with that.
In between jobs for a contact named Lester, a few for a mobster named Martin Madrazo, and a few for a psychopath named Trevor Phillips and his cowardly lacky, Ron Jakowski. Gaining funds and soon contacted by Merryweather Security Consulting, Kayle was faced with a new challenge: her sister, Morgan.
Meeting her at a run down bar in Sandy Shores, Kayle managed to reconcile with her sister the final problems they had (accidentally broke some of the bar in the process) and parted ways as sisters again...but even then, fate had other plans. Plans that never seemed to coincide with Kayle's.
One month later, on Kadence's sixth birthday, Morgan called. FIB agents were moving in on her for some of the things she had done as Merryweather, and now needed help. With the IAA and FIB already on extremely uneasy terms, she easily procured a Buzzard from Arcelia and made her way to Blaine County. Arriving just in time to take down a few FIB Mavericks, she did her best to cover Morgan on her way to her own vehicle...but she was hit.
Kayle watched her drive off, and followed. Swerving, almost drunken flight.Paniced and scared, Kayle descended as the Merryweather Mesa swerved and went off-road, finally spinning out and broadsiding a tree. Kayle landed nearbye and ran as fast as she could, but it was too late. Morgan was dying, and there was nothing she could possibly do.
Kayle held her sister's hand, so she would not pass away alone.
Burying her in a grave overlooking Los Santos, Kayle returned to Del Perro, drowning her sorrow out with Arcelia for the night.
MISC NOTES FROM FIB SUPERVISOR "AZAZEL":
-Handler Codename: DOMINION (FIB Supervisor Note - Has a homosexual relationship with Archangel. Have found nothing compromising and thus will leave it be. This relationship has grown more close since the death of Morgan Wynter.) If this becomes problematic, Arcelia Washington might be re-assigned.
-Useful asset with multiple skills, mainly flying.
-Has managed to procure her own vehicles since initial funding; her daughter is ferried between homes at random, keeping any enemies of Kayle at a loss for the girl's location.
Vices:
Smoking (prefers Morely, gets redwoods because no one carries Morely)
Sex with her handler.
Princess Robot Bubblegum (Favorite Character: Tied between titular protags and Shiny Wasabi Kitty)