Name: John Williams (Original name: James Williams)
Age: 43
Race: Human (British American)
Strengths/Weaknesses:
John was one of the best recon troopers in his platoon. John lost most of his squad fighting colonists on Arcadia, whenever someone reminds him of that day his vision goes blurry, which could be fatal in a dire situation. John can tell food from poisoned food at a glance. John lost his arm at the battle of Arcadia, it was replaced with a robot arm which has slower reaction times.
Appearence: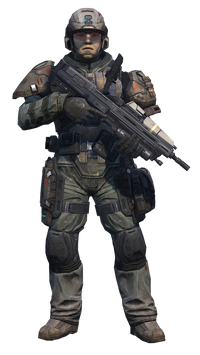 Role: John is currently working with the UNSC and his squad is recon-alpha.
Theme Song: https://www.youtube.com/watch?v=XDtoJDL2b3c
Location: Currently stationed on Earth
Current Staus: Alive
Biography: John grew up in the small town called York, when he was 13 York was attacked by the Sangheilli, he and a small group of citizens were taken to a Covenant prison, when he was 14 Master Chief Petty Officer 117 rescued him and the other captured citizens. When he was 20 he renamed himself "John" and joined the UNSC. At 23 he was court martialed for running away from battle (Arcadia) and was sentenced to 10 years in prison. When he was 33 he was released from prison and became a professional Bounty Hunter, he has killed many important people since then including his own father Jacob Williams. Right now he is again a Marine in the UNSC (he has changed.... a lot)