Name: Jeremy Burgess
Age: 29
Race: Caucasian
Skills: CQC, Robotics. Prone to flashbacks and nightmares.
Role: Close Quarters Combat
Screenshot/appearance:
Like that, just without the blood spilling out...
Insignia:
Theme: https://www.youtube.com/watch?v=Wy53tq9ZSAs&feature=related
Current Location: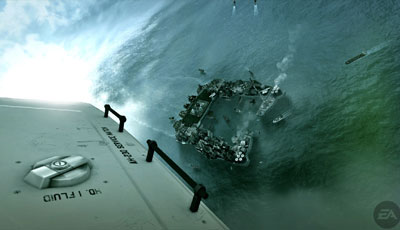 Current Status: Unknown
Interrogator: How long, have you had your mental problems?
Me: I was only 5. I was doing my daily thing, I wasn't feeling right that day. It was my pet dog. I arrived home to see my mom crying. I asked why, and she took me upstairs and pointed at my dog. I walked up, and tried to pet it. But it was cold, motionless. I was heartbroken. The day after that, I learned my dad died because of rebels. I just, never found peace after that.
Interrogator: And your dreams?
Me: Just, memories of nightmares. My mom used to tell me, that I would swing my fists, and sometimes grab things, as if I was being attacked. I would scream no, and let go. Sometimes, she said I screamed out in pain.
Interrogator: Why would you scream?
Me: I guess it was just my past trying to bring me down. I never really talked to anyone about it.
Interrogator: Would you join the UNSC?
Me: Definitely. I think they could use someone like me. Like special forces.
Interrogator: Would you give up everything to live?
Me: Even if it meant giving up a secret that mattered? Depends.
Interrogator: That's all I want to know for now. I will talk to you next week.
-----------------------------------------------------------------------------------------------------------------------------------------------------
(In recent events, after Jeremy went to earth, this happened)
(Jeremy)
=After we landed at the space port, I was immediately assigned to a line, or if you would rather call it, just me. The other half was the rest of the crew of the ship I was on, I said my farewell to Leann, and waited. After a while an officer approached me with another person, he looked like a corporation CEO or something like that. We talked for a short bit, and I had to leave with the CEO=
(CEO)
Welcome to GloboTech, my name is Eric Landerson, your new boss. At GloboTech, we take family business to a higher level!
(Jeremy)
There was no way I would be working in a service department. Might as well let him finish though.
(CEO)
However, we... Have other things, kept from the public, our military department. This may be hard to come by, so listen. Were giving you a new suit of armor, one of our agents was aboard the ship you were on, they extracted plenty of data from the artifact, so we developed the newest, most protective armor known made by humans, besides the forerunners of course. We could only use some of the information gathered which means it has a similar design. The suit runs with technology developed allowing the user to connect to electronics developed with our laser uplink, as long as the signal matches, your in. The only way for you to connect is to link with the laser uplink camera built into the electronic, the HUD will be able to display that. The only problem with the system is that there are only a few consoles that actually have the laser uplink, and they are rather new to the universe, so it will be rare that you can use it. The weapons were impossible to duplicate, however we created a new ammo round type. The bullet has a small amount of mercury in the tip, once it impacts of a target it begins to eat away at the tissue. Very lethal, tested on many species of the galaxy. Welcome to our mercenary department of our company, GloboTech.
(Jeremy)
Holy shit, what the hell have you been doing, and why?
(CEO)
The answer is obvious, to create the best mercenary company for the current age!
(Jeremy)
I guess im in, really don't have a choice, what's next exactly?
(CEO)
Your armor refit, of course. Your armor has a nice dent in it.
(Jeremy)
=After refitting my armor, I was brought to a hanger bay, and given a ship=
A ship?! What are you crazy? I can't fly?
(CEO)
Just input the coordinates into the console, the ship will guide itself. It is also equipped with a small turret, cargo bay, and hyper drive.
(The ship looks like this btw)
(Jeremy)
It looks high tech, why me?
(CEO)
We looked at everything about you, even the things ONI kept secret, it was easy, really. You suited best for one of our agents. Just be careful about traveling throughout the galaxy, its IFF isn't registered anywhere, not even on the ship itself, scanners won't be able to identify you, only a human can contact you.
(Jeremy)
Sounds awfully dangerous, unfortunately I like it.
(CEO)
Good, get aboard, your going on a trip, I know, its not much, we have weapons on board for you, food and some clothes, now, get a move on!
(Jeremy)
No training? At all? So I have to get used to all of this while im on the ship!
(CEO)
Why not? Its time for yourself!
(Jeremy)
Fine, ill get moving then.
=I looked at the gun, it looked like a battle rifle, just with a red dot, the ammo type the CEO was talking about. The ammo storage had maybe fifty clips in it, and a new suit just in case I lost mine. I looked at the console, and tried to see if the laser thing would work, it took a while before I figured it out, and the ship turned on, I was amazed. It made me think, what happened to Andrea? I realized that I gave the chip to Leann, she put her onto her fighter, at least she has her. I thought for a moment, thinking of where I want to go, the idea popped into my head, Haven=