Name: Spartan-A21B, Callsign: 'Cosmic'
Real name: James Anthony Cunningham
Age: Thirty-Two Years.
Race: Human, African-American.
Rank: LtC[Lieutenant-Colonel]
Combat Skills: Heavy Weapons(7/10 Rating). Close Quarters Combat(9/10 Rating). Brawling-Melee Style(5/10 Rating).
Personal Skills: Caligraphy(10/10 Rating). Poetry(6.5/10 Rating). Survivalist Skills(5/10 Rating).
Educational Skills: Mathmatics(4/10 Rating). Chemistry(6/10 Rating) History(8/10 Rating). English(10/10 Rating). Spanish (3/10 Rating). Tuu Language(5/10 Rating).
Flaws: Episodes(Reflecting Traumatizing Events). Short Temper(Easily Angered). Disobedient(Ignores Orders at times). Too Friendly to Locals(Considered a Flaw by UNSC). Afraid of Going in Close-Quarters with Zealot and Above Elite Classes(Nervous, hesitant).
Current Squad/Team: Gamma Company.
Role: Heavy Weapons Specialists. Close Quarters Combat Specialist.
Previous Squads/Teams: Alpha Company(Scrubbed). Beta Company(Company is no longer in service).
Screenshot/apearance:
Previous Armor:
Cosmics Previous Armor is CQB Variant With Steel as Primary Color and Red as Secondary. Baring a blue visor.
Left Shoulder was of EVA Variants w/ Several Trinkets Embedded in.
and Right was of Commando Variant.
Current Armor: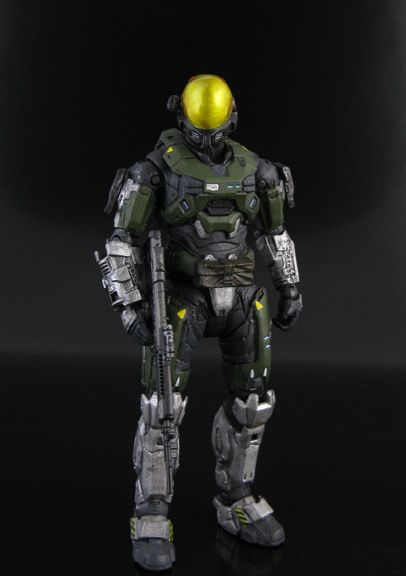 Cosmics Current Armor is a EVA Helmet with a golden visor. W/ Added Hardened Uplink Module. Color Is Sage and Silver.
Both Shoulders use ODST Variants, Modified to SPARTAN Armor.
Insignia, if applicable:
Current Location: UNSC
Washington
Current Status: Alive, Healthy.
Biography:
Personal Diary:
Entry one, Their training us, why us? Why are we chosen Canidates? Why can't we choose for our selves? Their pressuring us into training. Minor Augmentation. I can't believe how many people are here. All kids like me. Orphans, like me... Spartans, i heard of our Sergeants say that. Is that what we are to be? Ancient Greek Warriors? Meh... Lights out. Can't write anymore than this, Night.Entry two, Its confirmed, we are training to become Spartans. Spartans as in a Supersoldier program. To Fight the Conevnant. I'm actually.... Exicted.Entry three, I can't believe this is my third entry! Its been so long since i wrote these. Were going to reach! Hopefully i will live long enough to come back for a fourth entry.
UNSC Intelligence File:
Subject: SPARTAN-A21B
Age: Thirty-Two
Ethnic: African-American
History:
SPARTAN-A21B Was born on 2520, his family was Glassed on Harvest at the age of five. He survived however, living in a orphanege on reach before recruited into the SPARTAN-III Program in 2535 when he was Fifteen. Served Against Local Insurrections. Transported to earth then later transported back home at reach during the event known as "The Fall of Reach" Further History Unknown.
Backstory: (WIP)